What a rainy day so far… I'm sitting here with a hot cup of chai tea latte (I'm addicted to this right now, it's SO good!) with the constant sound of raindrops against my windows in my ears. Perfect for writing a new blog post, don't you think? Like a scene out of a movie. ;D
Today's post will be a fashion post. Spain is home to Zara, Mango and so many other cool brands, so most of the clothes there were a bit cheaper than here. And since fall and university are right around the corner, a few new items don't hurt, right. (;
So, here we go!
Oh and btw, since today I'm officially a student at university, I'm so excited! 😀
//Was für ein verregneter Tag bis jetzt… Ich sitze hier mit einer Tasse heißem Chai Tea Latte (ich bin momentan süchtig danach, es ist SO gut!) und dem konstanten Geräusch der Regentropfen an meinen Fenstern im Ohr. Perfekt, um einen neuen Blogpost zu schreiben, findet ihr nicht? Wie eine Szene aus einem Film. ;D
Der heutige Post wird ein Fashion Post sein. Spanien ist das zu Hause von Zara, Mango und noch vielen anderen coolen Marken, also sind viele der Kleidungsstücke billiger, als hier bei uns. Und da der Herbst und die Uni vor der Tür stehen, können ein paar neue Stücke ja nicht schaden, oder. (;
Also, los geht's!
Oh und noch was, seit heute bin ich offiziell Studentin an der Uni, ich bin schon ganz aufgeregt! 😀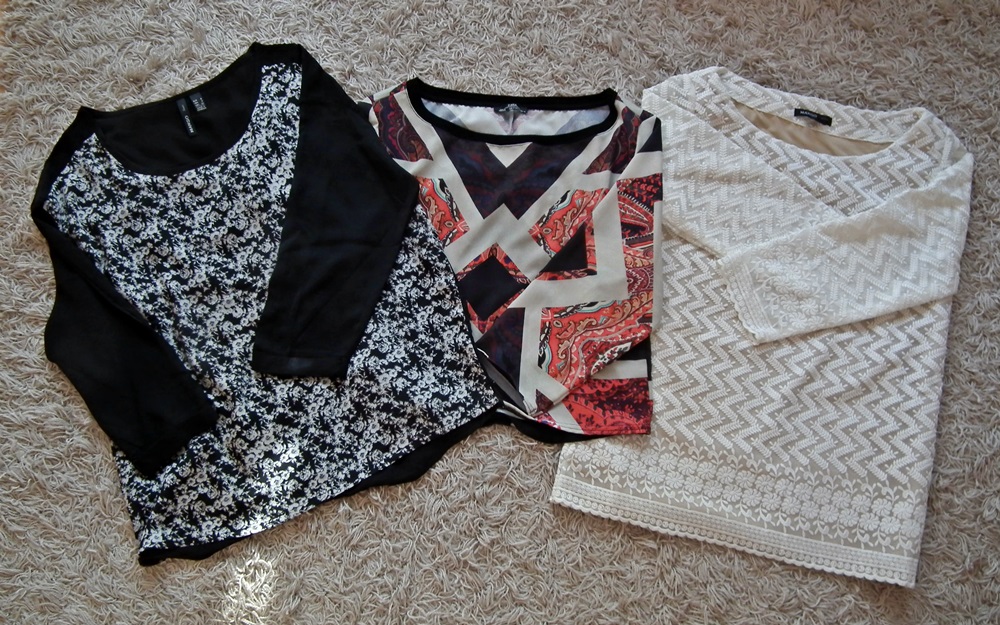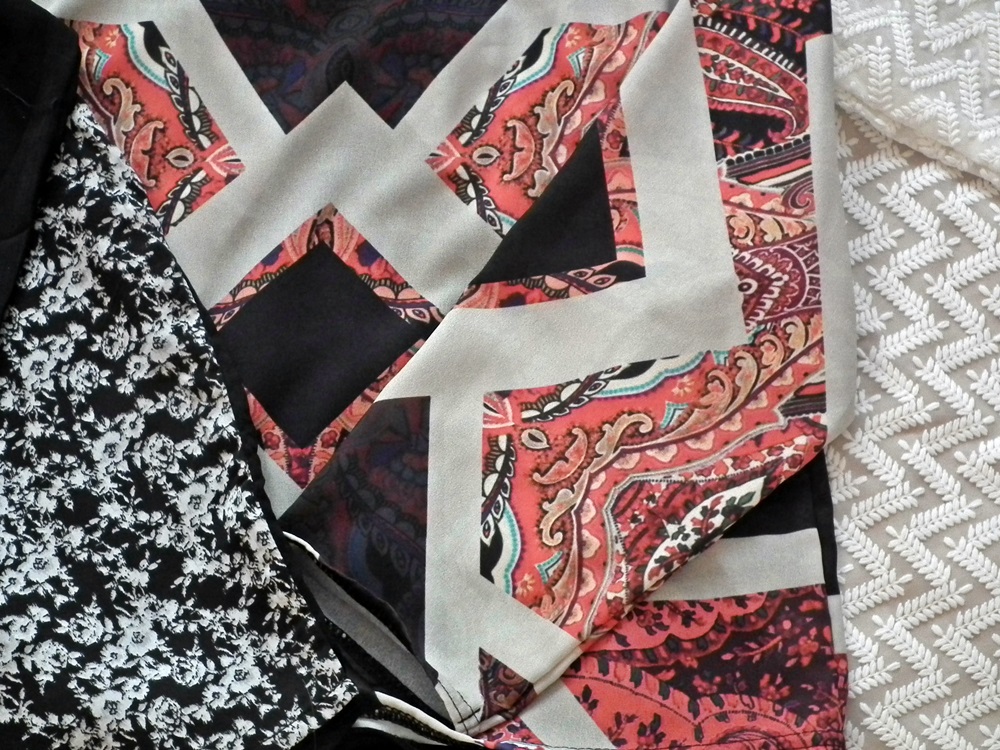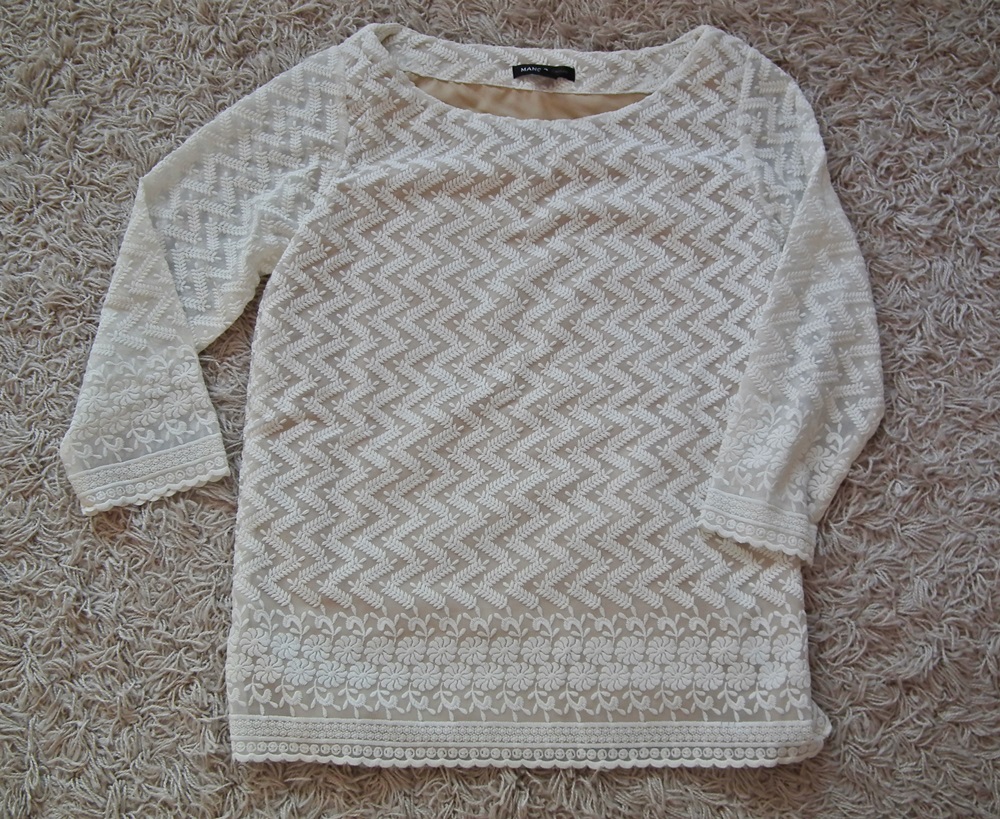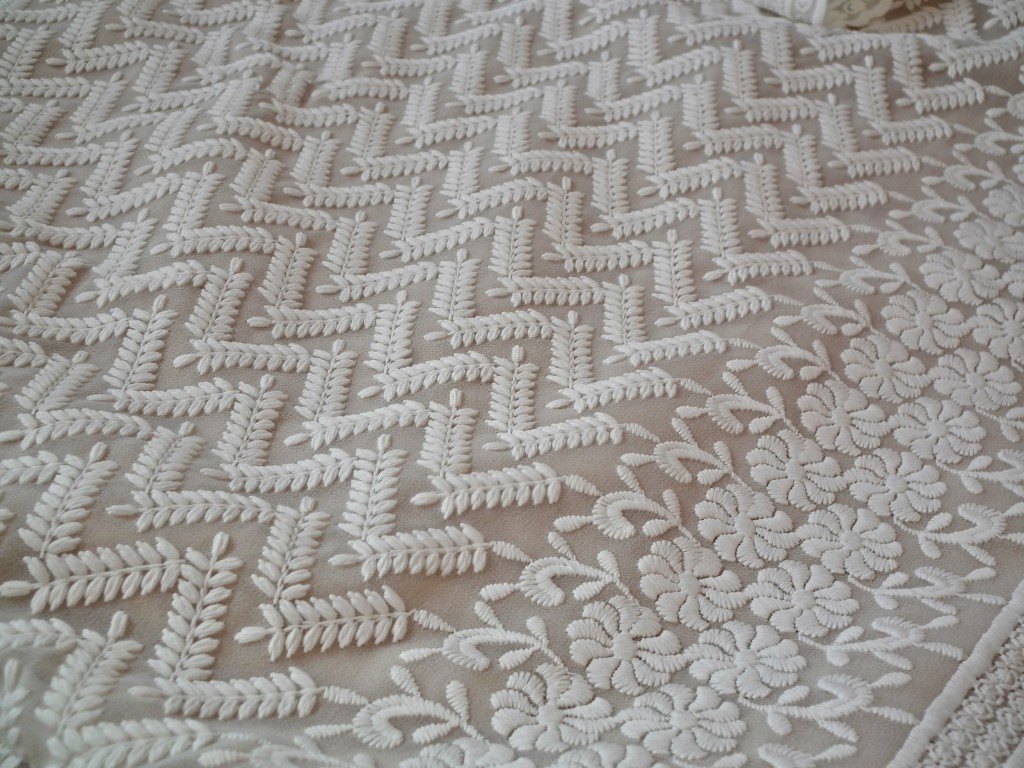 This shirt is from the Mango Outlet (!!) Store, did you know that these even exist?! I didn't. The assortment of clothes was huge and I did not find a single clothing item with a hole or anything else. Really cool. The sleeves of this shirt are sheer and I think it will work well with skinny jeans, gold jewelry and a soft make up look.
//Dieses Shirt ist von einem Mango Outlet (!!) Store, wusstet ihr, dass es sowas überhaupt gibt?! Ich nicht. Die Auswahl an Kleidung war echt groß und ich habe kein einziges Teil mit Fehlern (Löchern etc) gefunden. Ziemlich cool. Die Ärmel sind durchsichtig und ich denke es passt gut zu Skinny Jeans, goldenem Schmuck und einem soften Make-Up.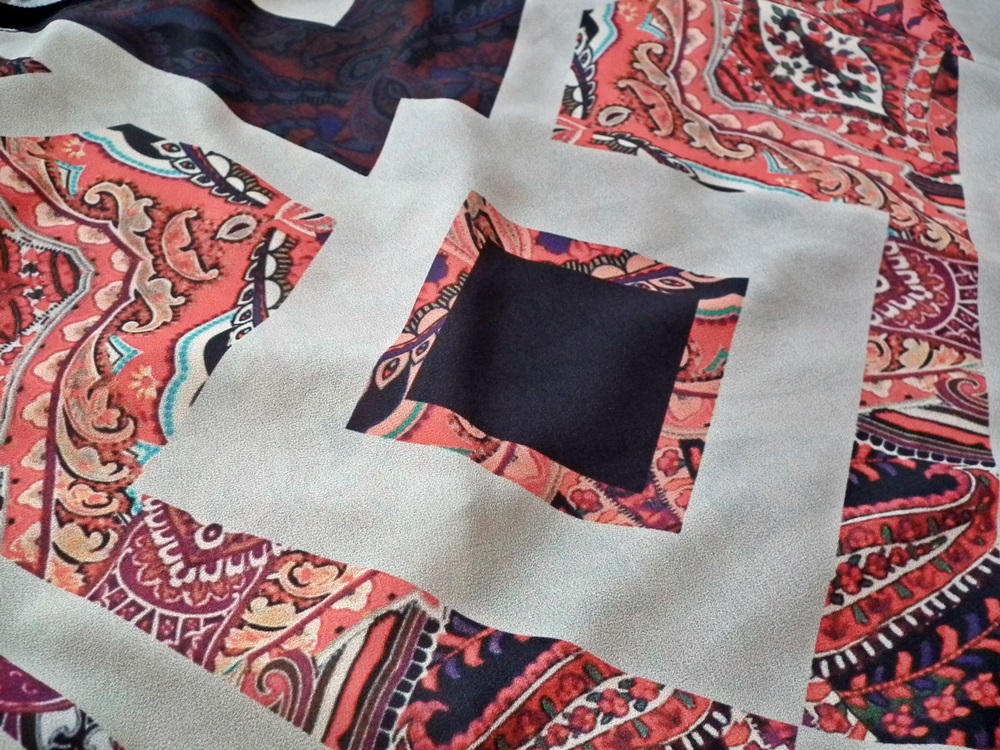 This one is from Zara, it's a little bit sheer and cropped, so it's shorter than other tops. I could imagine wearing this to a high-waisted maxi skirt. I also really like the colors!
//Dieses hier ist von Zara, es ist ein bisschen durchsichtig und 'abgeschnitten', somit ist es kürzer, als normale Oberteile. Ich kann es mir gut zu einem high waist Maxirock vorstellen. Vor allem die Farben gefallen mir!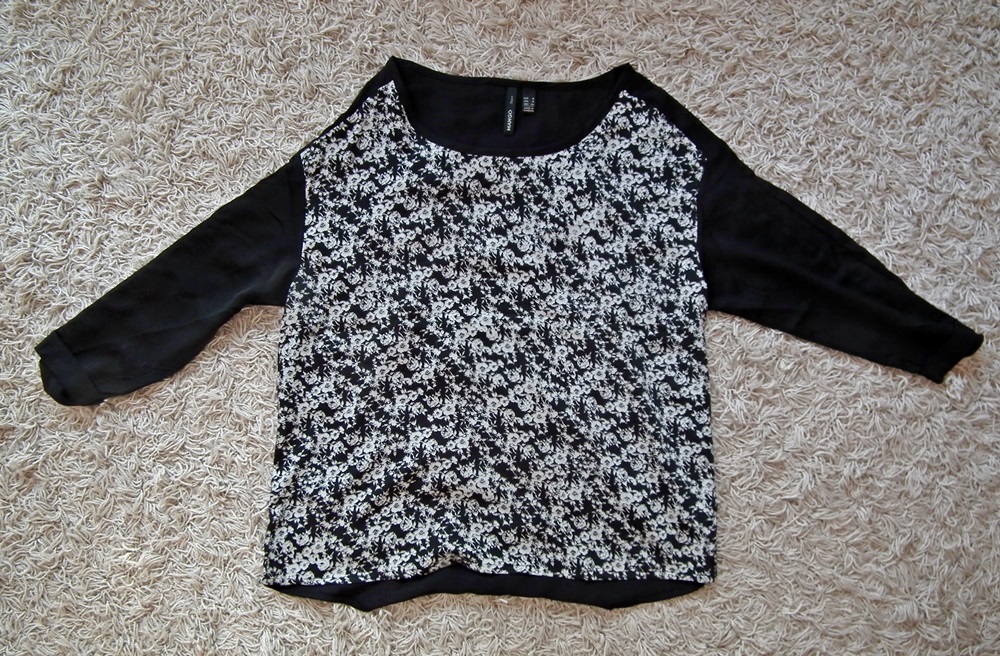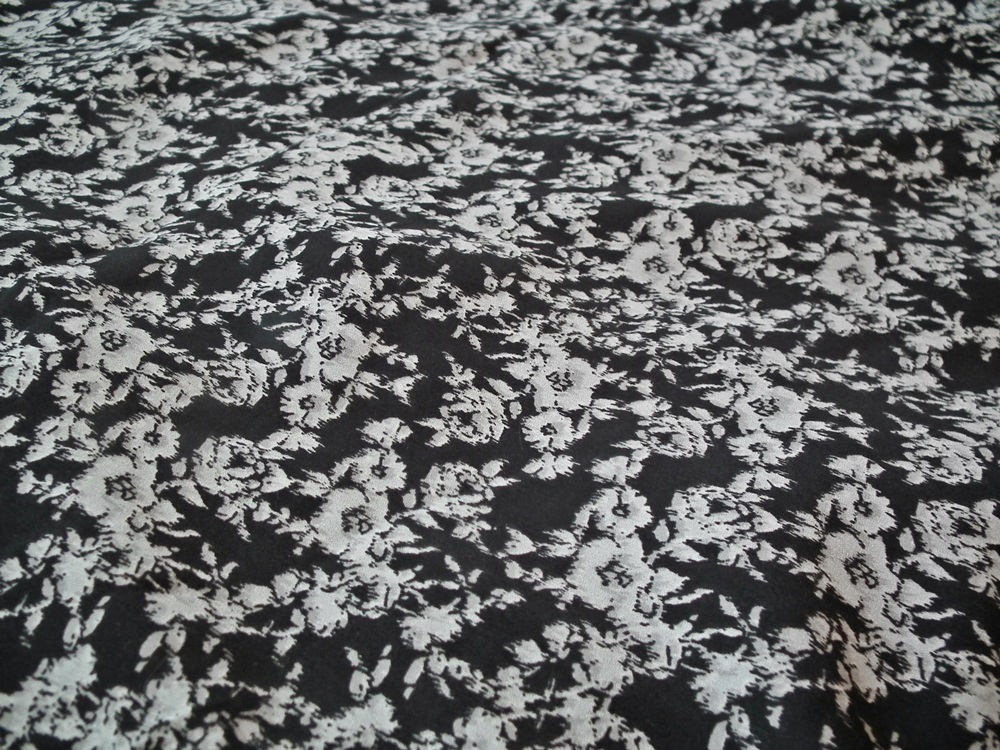 This pattern looks really weird on the pictures and I don't even know why! Anyway, this is a lightweight shirt from Mango, it almost feels like silk. The back is just black, but on the front you can see this small pattern made out of flowers. It does not look this weird actually, I guess my camera just didn't like it.
//Dieses Muster sieht auf den Fotos so komisch aus und ich weiß noch nicht mal warum! Naja, dieses leichte Shirt ist von Mango, es fühlt sich fast wie Seide an. Der Teil am Rücken ist nur schwarz, aber vorne könnt ihr dieses kleine Muster aus Blumen sehen. Es sieht eigentlich gar nicht so komisch aus, meine Kamera mochte das Muster wohl nicht sonderlich.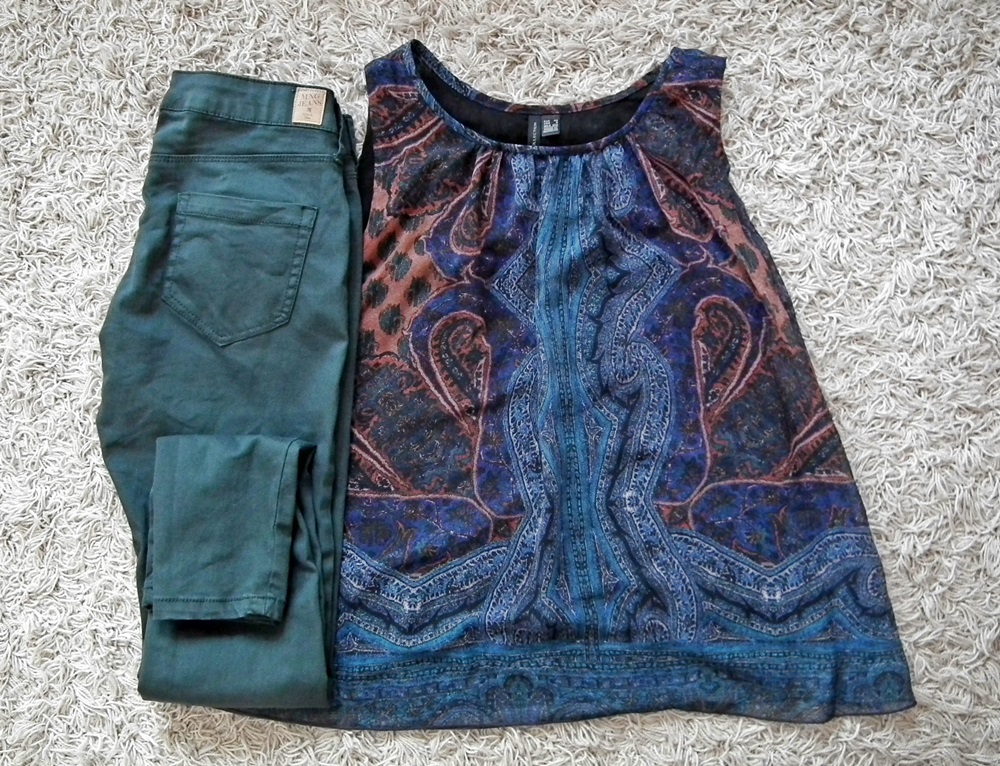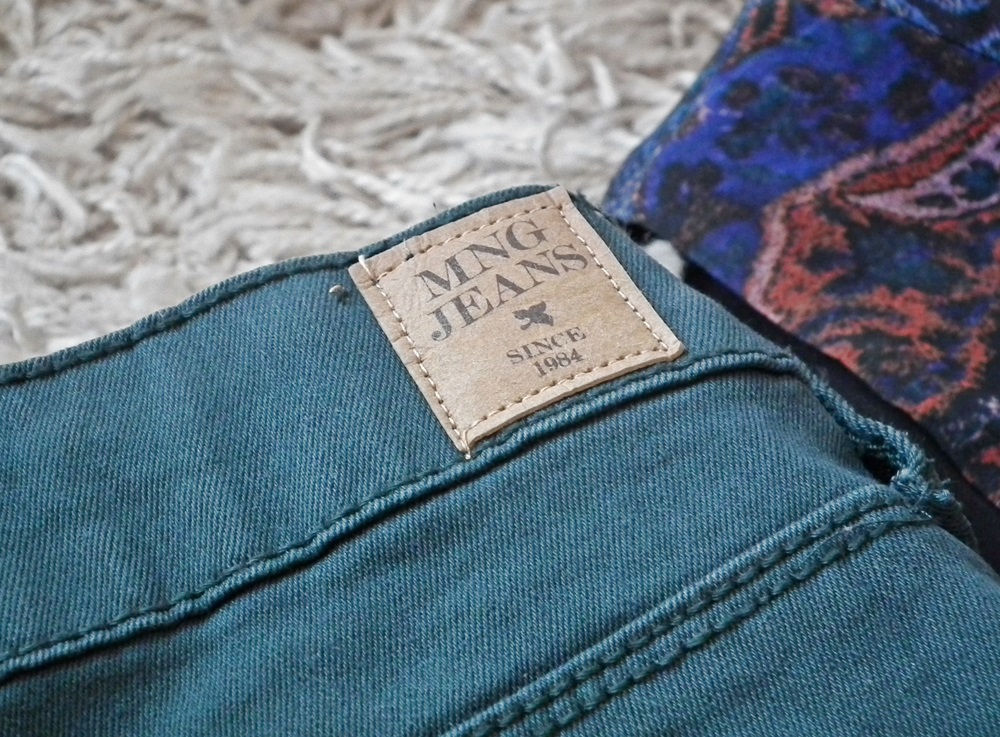 I just love this outfit. Both items are from Mango and I am so in love with the colors, the fit, the material – everything. The jeans are pretty skinny but also very stretchy (perfect for sitting, yes!) and the blouse is so flowy and lightweight. Add a nice cardigan, some boots and a leather jacket and you're good to go and not freezing during fall. (;
//Ich liebe dieses Outfit einfach. Beide Sachen sind von Mango und ich stehe total auf die Farben, die Passform, das Material – alles. Die Jeans ist ziemlich skinny aber auch sehr stretchy (perfekt zum sitzen, juhuu!) und die Bluse ist so schön fließend und leicht. Noch ein schöner Cardigan, Boots und eine Lederjacke und man ist gewappnet für den Herbst, ganz ohne zu frieren. (;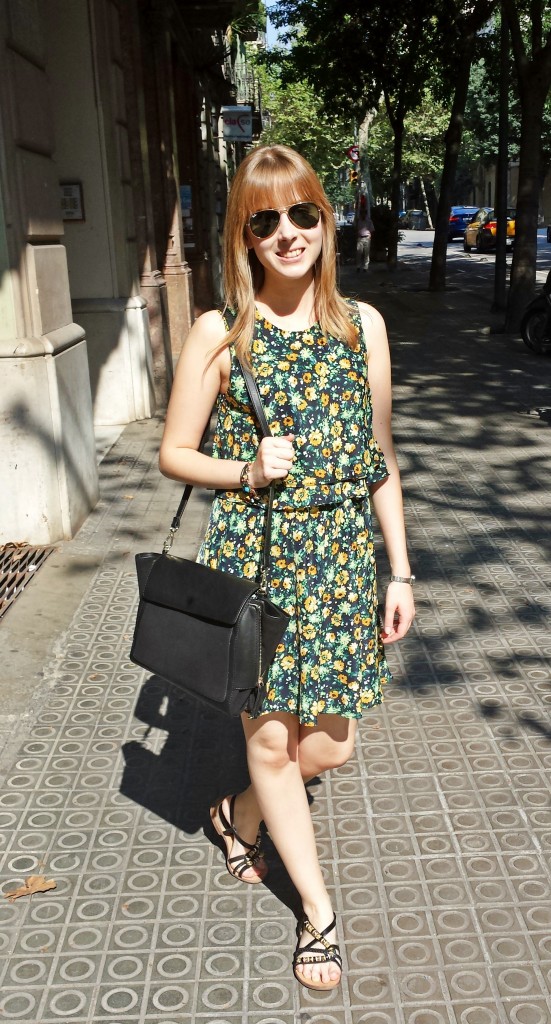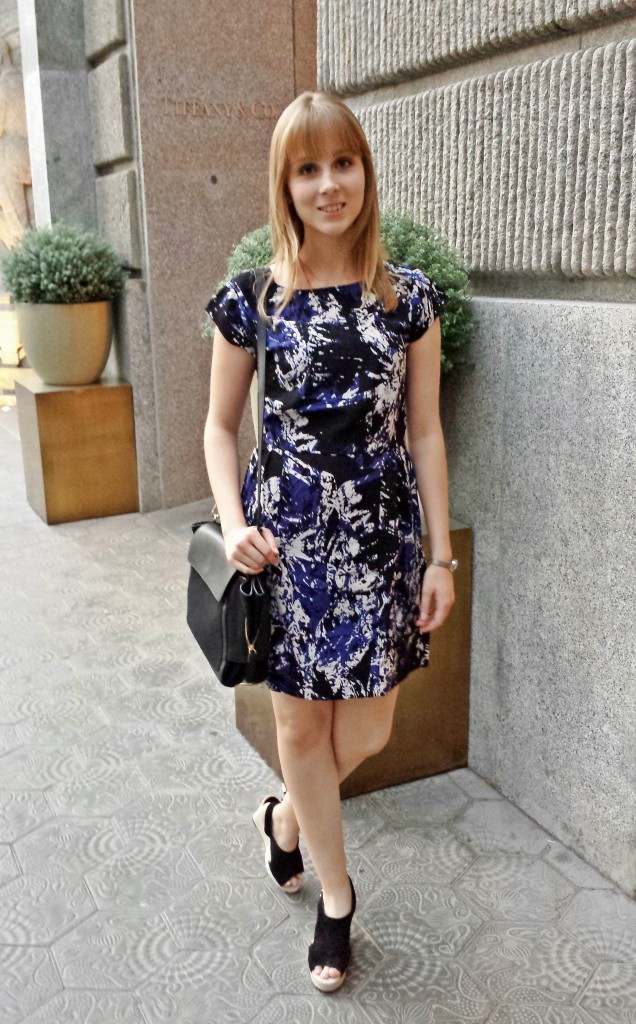 And of course my two dresses, you already know them from a previous post (klick here to read it in case you missed it!).
The bag in these pictures is also from Barcelona, I bought it at Zara and it's perfect for city trips. It's big enough for everything you need, when you're strolling around town, like your purse, a small water bottle, tissues, powder, lipbalm… The long strap makes it easy to wear, either across your body or simply over one shoulder, like I did in these pictures. The lightning today was so bad that I couldn't take any decent pictures of it, I'm sorry, otherwise I would of course have uploaded some.
//Und natürlich meine beiden Kleider, die ihr schon von einem vorherigen Post kennt (klickt hier, um ihn zu lesen, solltet ihr ihn verpasst haben!).
Die Tasche auf diesen Bildern ist auch aus Barcelona, ich habe sie bei Zara gekauft und sie ist perfekt für einen Trip in die Stadt. Sie ist groß genug für alles, was man dazu braucht, also Geldbeutel, eine kleine Wasserflasche, Taschentücher, Puder, Lipbalm… Durch den langen Riemen lässt sie sich gut tragen, entweder einmal quer über den Körper, oder einfach über eine Schulter, wie ich es auf beiden Fotos getan habe. Das Licht war heute so schlecht, dass ich keine anständigen Fotos davon machen konnte, tut mir leid, sonst hätte ich natürlich welche hochgeladen.
This was my last post about Barcelona. I had such a great time and I definitely want to go back soon. If you have the chance to visit this city, don't hesitate and DO IT! It's so worth it, trust me. (;
How would YOU wear these items? Any suggestions? Tell me in the comments!
Have a wonderful day everyone!
//Das war mein letzter Post über Barcelona. Ich hatte da eine so tolle Zeit und ich will definitiv so schnell es geht dort hin zurück. Wenn ihr die Gelegenheit habt, diese Stadt zu besuchen, dann zögert nicht und TUT ES! Die Stadt ist es wert, glaubt mir. (;
Wie würdet IHR diese Kleidungsstücke tragen? Habt ihr Vorschläge? Sagt es mir in den Kommentaren!
Habt noch einen schönen Tag!