Hey everyone!
How's your day so far? Mine was very interesting but also pretty exhausting. I visited the 'Veggie Expo', an exhibition about vegetarian and also vegan food, clothes, cosmetics and lifestyle. It was very interesting and I also bought some things (I just can't resist good food), I will show them to you in another post, so stay tuned!
One week ago I went to my hairdresser, Lippert's Friseure. I did not want a huge change, my hair is simply looking healthy and fresh again. As always I had a very good time with a relaxed atmosphere and an excellent service. I may also have gotten a new product to try out which I may have been testing out for the last few days… Another reason to stay tuned and follow Beauty tastes good on facebook, bloglovin, Pinterest and instagram! (;
Anyway, the prospect of a new haircut seemed to inspire my inner fashionista and I opted for pieces which are pretty contrastive and also a little bit fierce. Something I definitely wouldn't wear every day. Well, maybe I would now, because in this outfit I felt just great! But take a look and decide yourself, is it rather naughty or nice? Or maybe both? (;
//Hallo meine Lieben!
Wie ist euer Tag bis jetzt? Meiner war ziemlich interessant aber auch anstrengend. Ich war auf der 'Veggie Expo', einer Messe über vegetarisches und veganes Essen, Kleidung, Kosmetik und Lifestyle. Es gab viel zu sehen und ich habe auch ein paar Dinge gekauft (gutem Essen kann ich einfach nicht wiederstehen), diese werde ich euch in einem anderen Post zeigen, also fleißig dran bleiben!
Vor einer Woche hatte ich einen Termin bei meinem Frisör, genauer gesagt bei Lippert's Friseure. Ich wollte keine große Veränderung, meine Haare sehen einfach wieder gesund und frisch aus. Wie immer war der Aufenthalt total super, in entspannter Atmosphäre und mit einem erstklassigen Service. Ich habe vielleicht sogar ein Produkt zum Testen bekommen, welches ich vielleicht in den letzten Tagen getestet habe… Noch ein guter Grund, um Beauty tastes good auf facebook, bloglovin, Pinterest und instagram zu folgen! (;
Auf jeden Fall schien die Aussicht auf einen neuen Haarschnitt meine innere Fashionista ein wenig zu inspirieren und so wählte ich Teile, die ziemlich kontrastierend sind und ein wenig mutiger. Etwas, was ich sicherlich nicht jeden Tag tragen würde. Obwohl, inzwischen vielleicht doch, denn in diesem Outift habe ich mich richtig gut gefühlt! Aber seht und entscheidet selbst, ob es eher naughty or nice ist? Oder doch beides? (;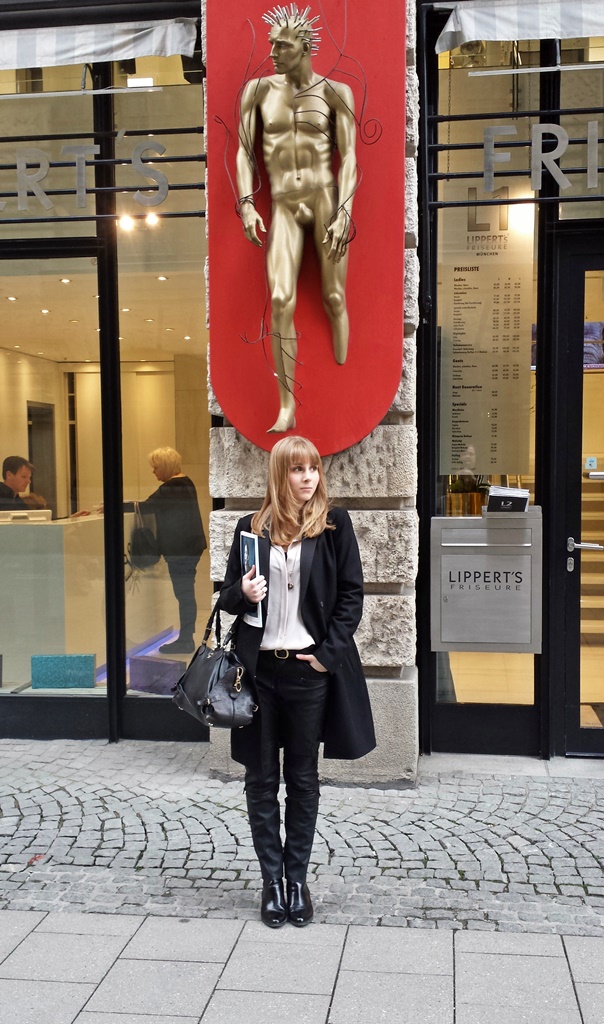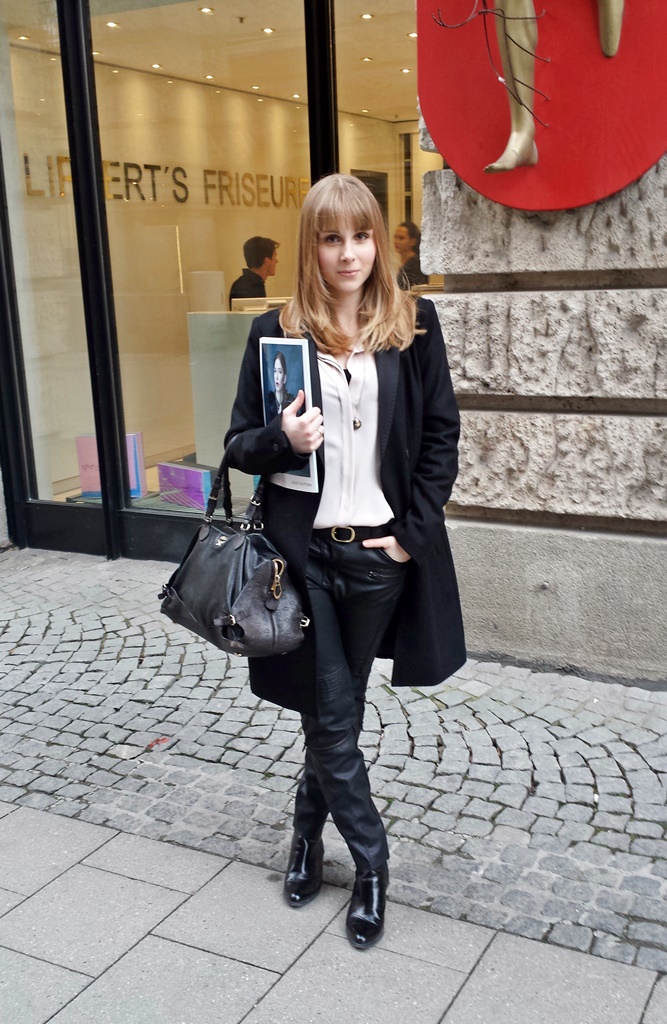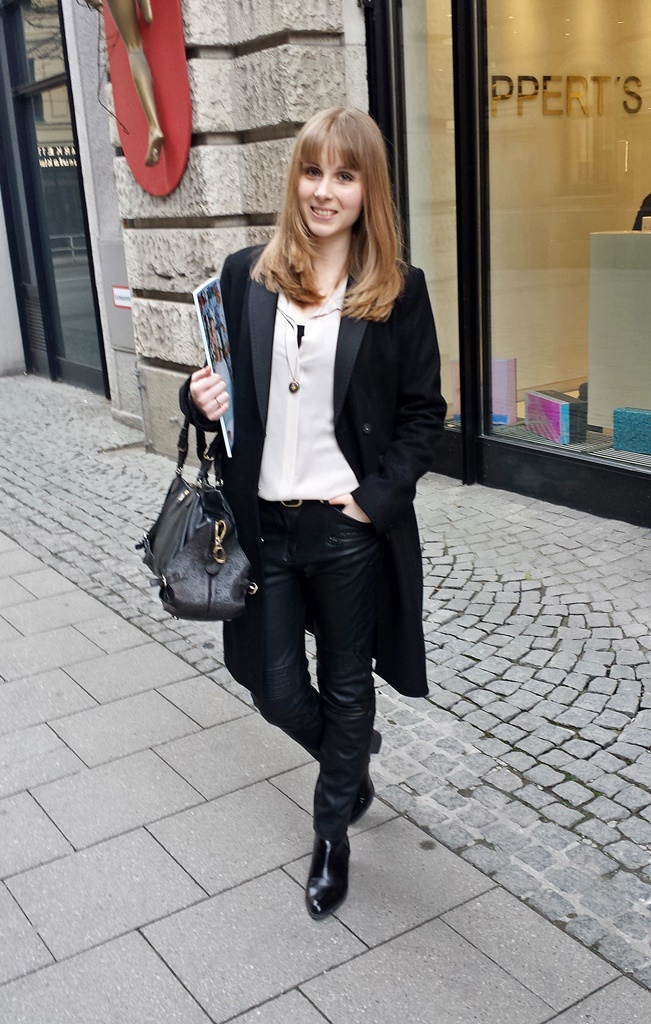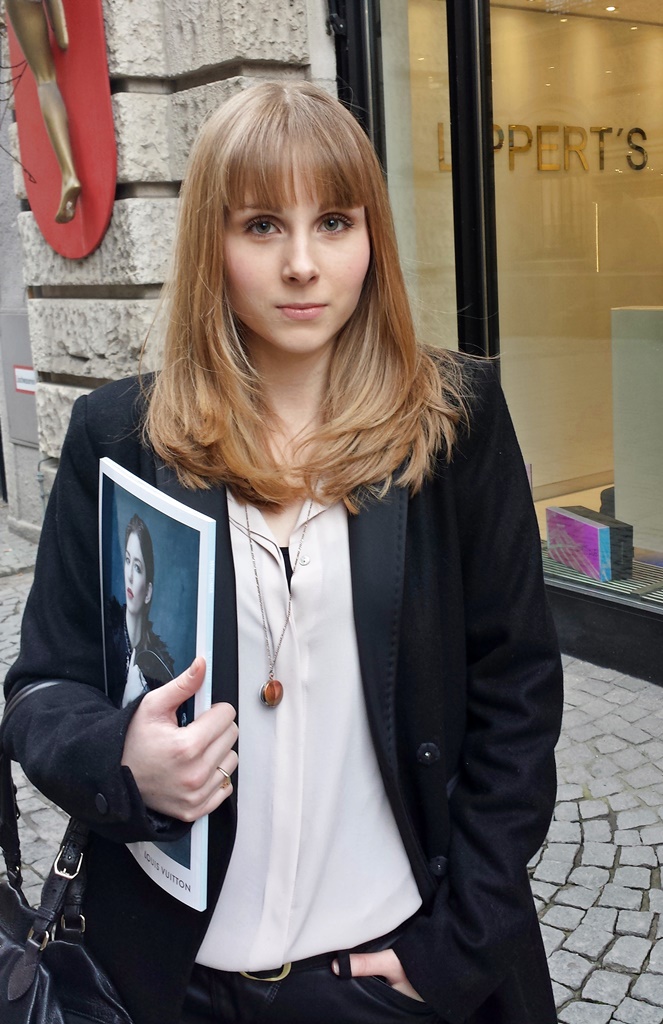 Leather Jeans – Zara (they're fake leather)
Coat – H&M
Blouse – H&M
Belt – Pieces
Necklace – Urban Outfitters
Ring – Gifted from my mum, it used to be her's
Boots – Zara
Bag – MCM