Hey everyone!
Welcome to the last part of my skincare series in which I will talk (well, rather write) about my little 'extras'. These are products, which I don't use on a daily basis, exept one of them, and that I only apply when needed. I have to say, though, that I will only show you the ones I have been using for a long time now. At the moment I'm testing some new products, but so far I cannot tell wether I'll continue to use them in the long run or if I'll toss them as soon as they're finished. Therefore they're not featured in this post.
Anyway, back to business, here are my favourite skin-saver products!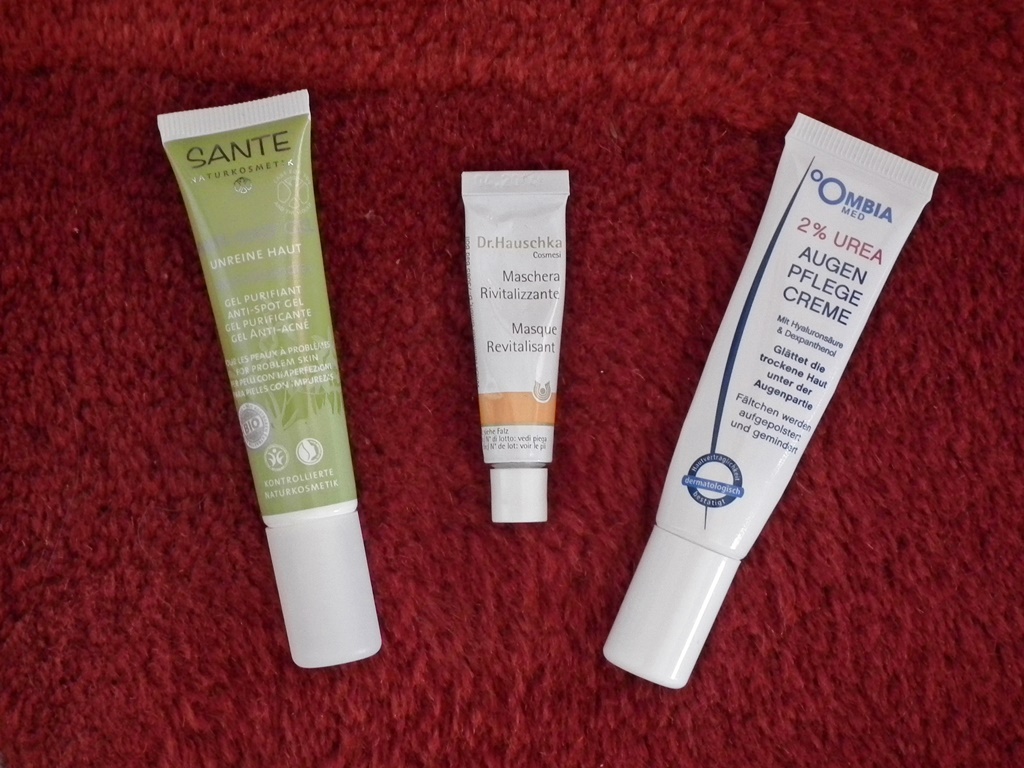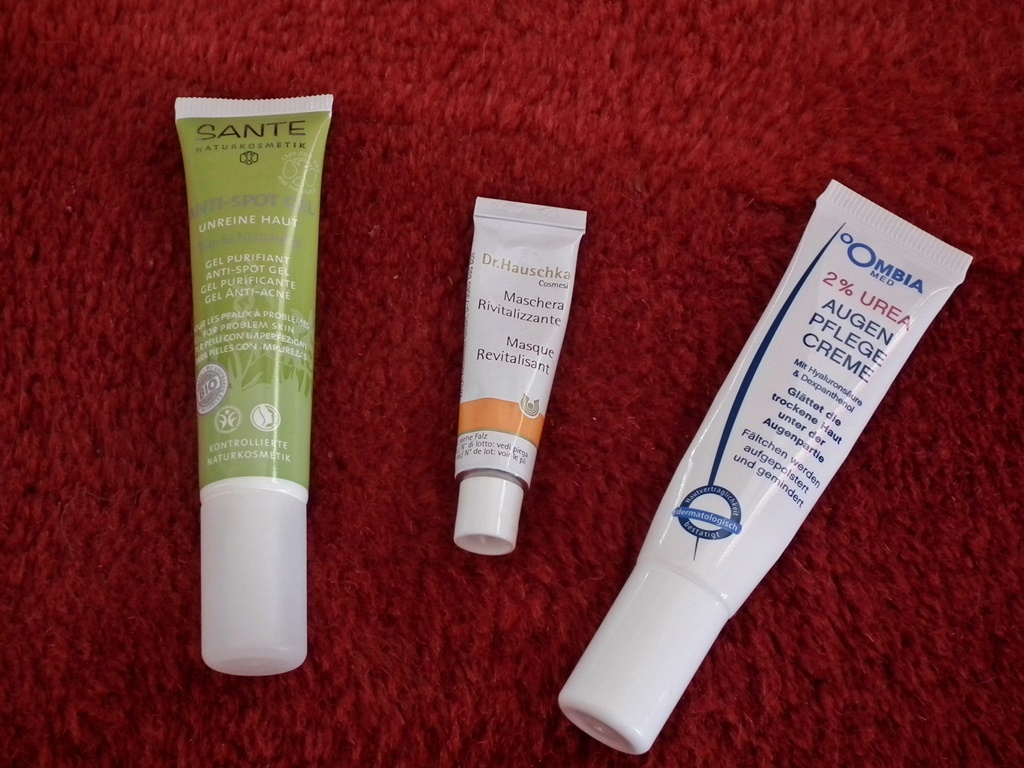 Sante Anti-Spot Gel
This is a clear gel which is supposed to banish any zits that might occur on your face. At first I honestly had some doubts, if this would really work. It's also all natural and I was afraid that it would be too gentle to fight blemishes, but actually it does a really good job! You apply it directly on the spot, several times a day (if needed) and then HANDS OFF. Seriously, touching breakouts during the day just makes them waaay worse, since they constantly get in contact with the bacteria on your hands. Anyway, you won't feel a tingling sensation, which may let you think that it isn't working, but just be patient and look at the spot the next morning – well, if it's still there. (;
Dr. Hauschka Rejuvenating Mask
I love, love, love it so much! I enjoy it every time I treat myself with this mask. Designed for normal, oily and sensitive skin this product soothes, increases blood circulation, softens acne scars,  moisturizes and does so much more. This is a total life-saver if you've been sick, had a lot of breakouts recently or simply if your skin needs to be brought back to life again. I notice a visible change EVERY time I use it. I apply it  once or twice a week at night onto clean, damp and toned face and let it do it's wonders for 20-30 minutes. Afterwards I take it off with warm water and apply moisturizer. Then, after waking up in the next morning, my skin feels soft and looks healthy, balanced and like I've just been two weeks on vacation. As you probably notice, I highly recommend this product. (;
Ombia Med 2% Urea Eye Cream
This is one of the products which I use daily, but most of the girls my age don't use eyecream, therefore I put it to my extras. With hyaluronic acid and dexpanthenol this cream smoothes and nourishes the sensitive, dry area around your eyes. It is also supposed to minimize small wrinkles, but actually I can't approve this, since I don't have any. (; But I can definitely say that this has become one of my favourites over the months. It is pretty cheap (you only can get it at Aldi at a certain time of the year), does what it's supposed to and is gentle on this particularly sensitive part of the face. Simply apply it with your ring finger (this one provides the least pressure) and lighty massage it in circular motions from the inner corner to the outer corner of your eyes. This will ensure to get rid of any puffiness, which comes in very handy on early mornings. (;
So, this was the last part of my mini skincare series, I really hope you enjoyed it! If you have any questions just leave a comment in the comment section and I will make sure to answer it.
What's YOUR skin-saver product? Do you have one? I'd love to hear your answers!
Have a wonderful evening everyone and stay tuned for a new outfit post during the next days!