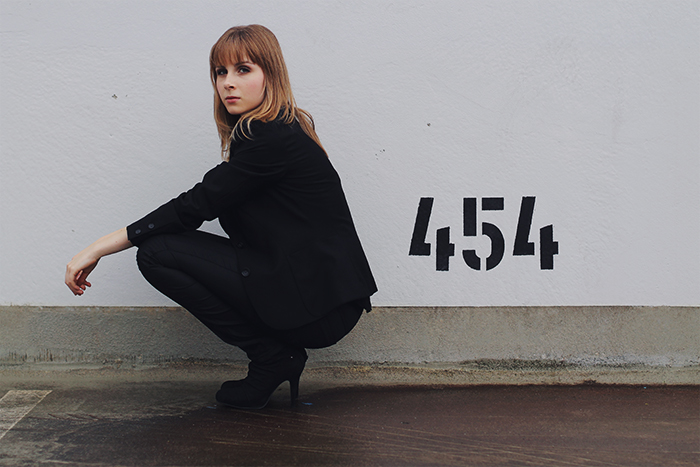 Fall Fashion 2013 – Part I
Finally…
THIS is the post I've been talking about for the last few days. It required a lot of preparation, time and research, but it is so worth it. There will be two parts and this is the first one. The second one will be uploaded during the next days, so stay tuned.
//Endlich…
DAS ist der Post, von dem ich in den letzten Tagen gesprochen habe. Er hat viel Vorbereitung, Zeit und Recherche in Anspruch genommen, aber das ist es definitiv wert. Es wird zwei Teile geben und dieser hier ist der Erste. Der Zweite wird in den nächsten Tagen hochgeladen, also bleibt fleißig dran.
Every year it's the same. One day you think 'summer holiday, wohoooo!! Time for bikinis, ice cream, tanning and relaxing' and the next day you stroll through the city and all you see is coats, boots, sweaters and dark colors – Fall fashion has arrived. Even the magazins are full of it when it's still 30 degrees outside.
Confronted with so many different new trends it's sometimes hard to decide in which items you should invest and which would look good in every day life (and not just on the runway, pajama-trend anyone?!). I'm struggling with this problem every season, this is why I decided to dedicate two posts on this year's fall trends with items that are both affordable and fashionable.
So, I hope you like it and here are the first trends for fall 2013!
//Es ist jedes Jahr das selbe. Am einen Tag denkt man sich noch 'Sommerferien, wuhuuu!! Zeit für Bikinis, Eis, braun werden und entspannen' und im nächsten Moment schlendert man durch die Stadt und sieht an jeder Ecke Jacken, Stiefel, Pullover und dunkle Farben – die Herbstmode ist da. Sogar die Magazine sind voll davon, während es draußen noch 30 Grad hat.
Konfrontiert mit so vielen verschiedenen neuen Trends ist es manchmal schwierig zu entscheiden, in welche Stücke man Geld investieren sollte und was auch im täglichen Leben gut aussieht (und nicht nur auf dem Laufsteg, Pyjama-Trend hallooo?!). Ich kämpfe jede Saison mit diesem Problem, deshalb habe ich beschlossen, zwei Posts dem Thema Herbst Trends zu widmen mit Kleidungsstücken, die sowohl bezahlbar, als auch modisch sind.
Also, ich hoffe es gefällt euch und hier sind die ersten Trends für den Herbst 2013!
Shades of red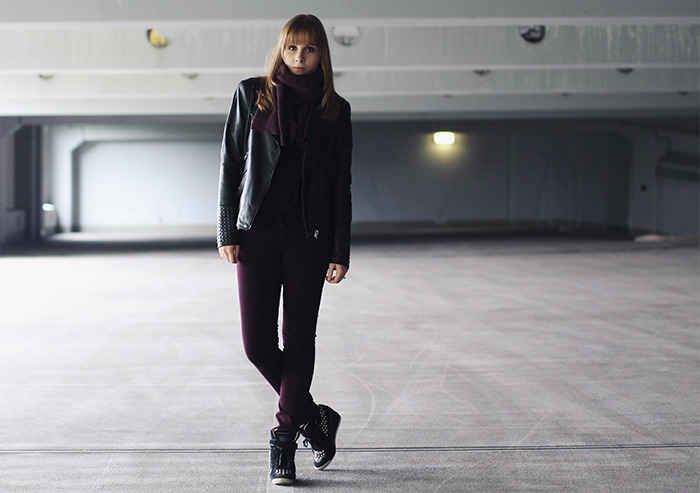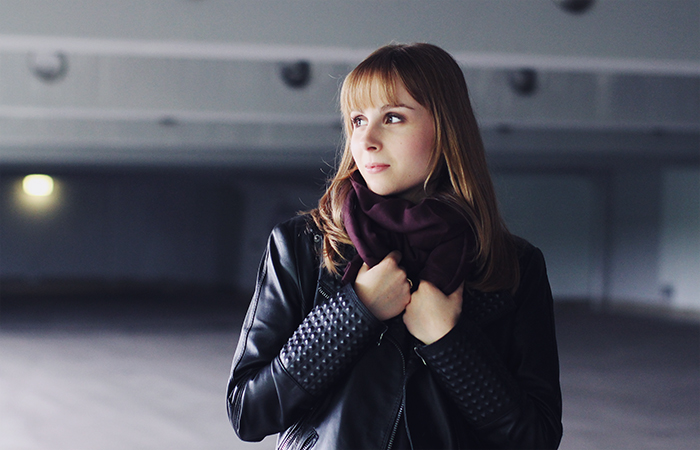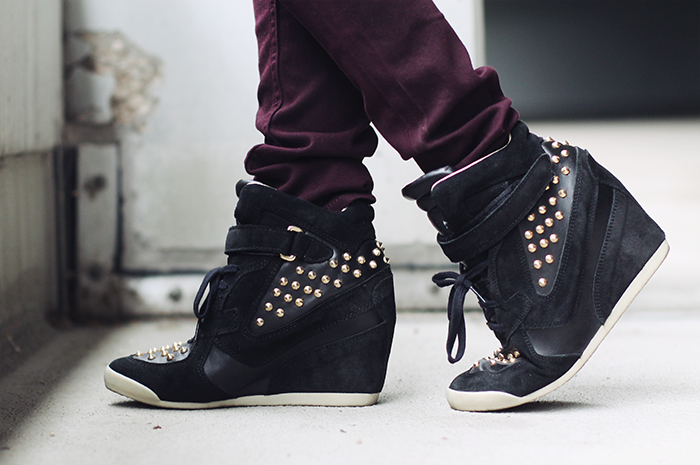 Burgundy Jeans – H&M
Scarf – H&M
Leather Jacket – Zara
Shoes – Zara
From Crimson to burgundy, red is THE color of fall 2013. Either worn all over from head to toes for a daring look or a bit more subtle with just one piece, it will definitely catch anyone's attention. Just make sure that if you wear it all over to mix two different shades of red, otherwise you will just look over-the-top.
//Von Purpur bis Burgunder, Rot ist DIE Farbe im Herbst 2013. Entweder im komplett Look von oben bis unten für einen dramatischen Auftritt, oder ein bisschen subtiler mit nur einem Teil werdet ihr in jedem Fall Aufmerksamkeit erregen. Achtet nur darauf, dass ihr bei einem All-over Outfit in jedem Fall zwei verschiedene Rottöne kombiniert, ansonsten sieht es zu krass aus.
It's a (wo)mens' world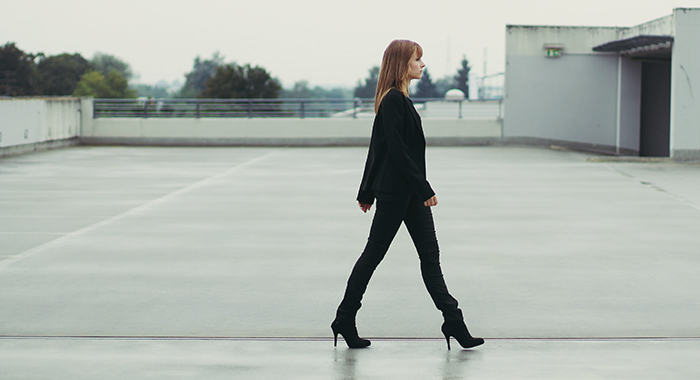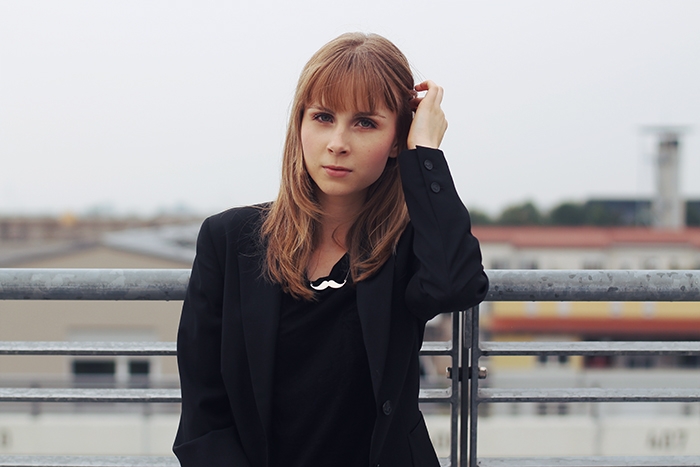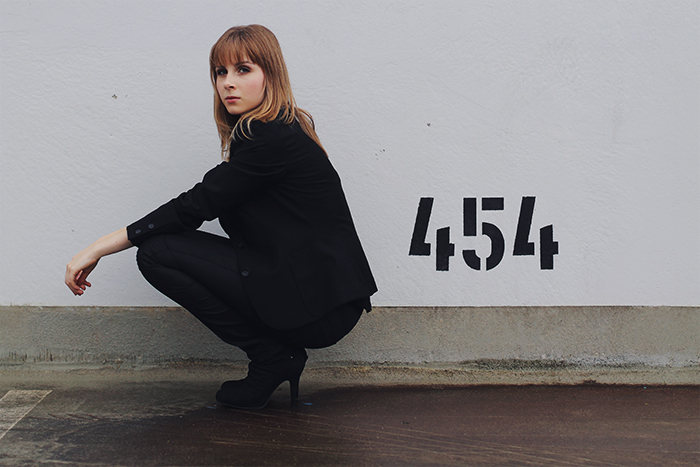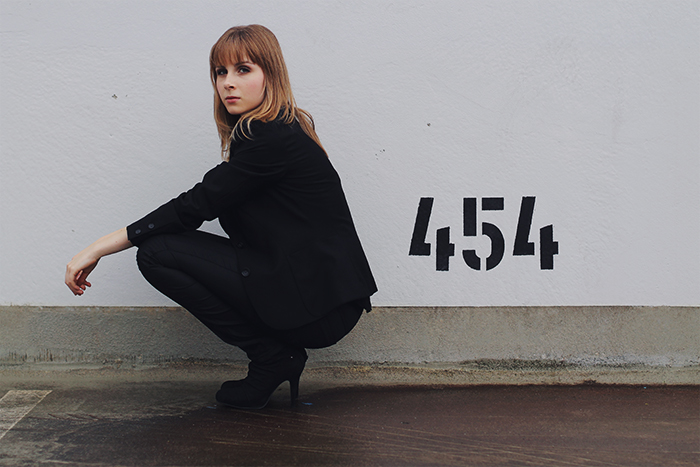 Blazer – G Star Raw
Biker Pants – Only
Heels – Daniel Hechter
Necklace – Accessorize
Business 2.0. It's not about boyfriend blazers or an exreme tomboy look. It's about sexiness and power. Invest in a well fitting blazer and black slim jeans. Add some killer heels and a hint of skin here and there (really just a hint!) and noone (or man) can stop you. (;
//Business 2.0. Hier geht es nicht um Boyfriend Blazer oder einen extremen Tomboy Look. Es dreht sich um Sexiness und Power. Investiert in einen gut sitzenden Blazer und schwarze Slim Jeans. Dazu ein Paar Killer High Heels und ein klein wenig Haut hier und da (wirklich nur wenig!) und nichts und niemand (schon gar kein Kerl) kann euch stoppen. (;
Accessiores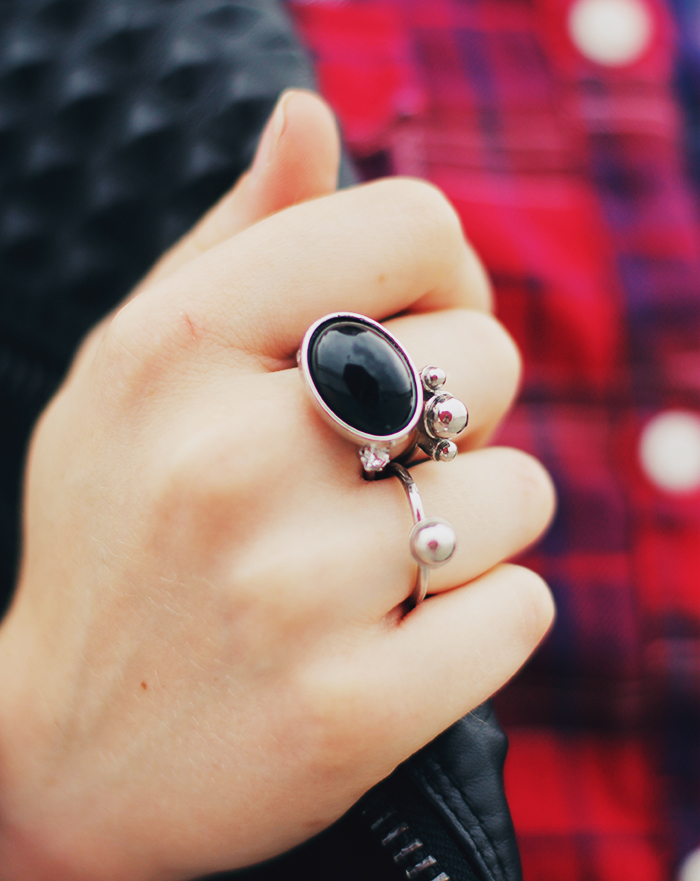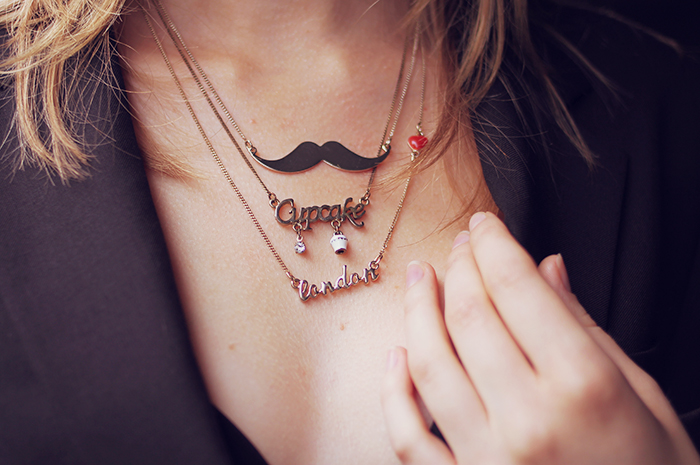 Rings – all H&M
Necklaces – all Accessorize
This fall jewelry should really make a statement. Think of statement necklaces, lots of rings (even 2 or more on one finger!) and bracelets. Mix different materials and colors and most of all: don't hold back!
//Diesen Herbst soll Schmuck definitiv ein Statement abgeben. Statement Ketten, viele verschiedene Ringe (sogar mehr als 2 an einem Finger!) und Armbänder. Kombiniert unterschiedliche Materialien und Farben und vor allem: keine Zurückhaltung!
So, what do you think of these trends? Would you wear them, do you have a favourite already? Please tell me in the comments and stay tuned for part II!
//Also, was haltet ihr von diesen Trends? Würdet ihr sie tragen, habt ihr schon einen Favoriten? Schreibt es mir in den Kommentaren und bleibt dran für Teil II!
Photos by Svenja Sommer Photography