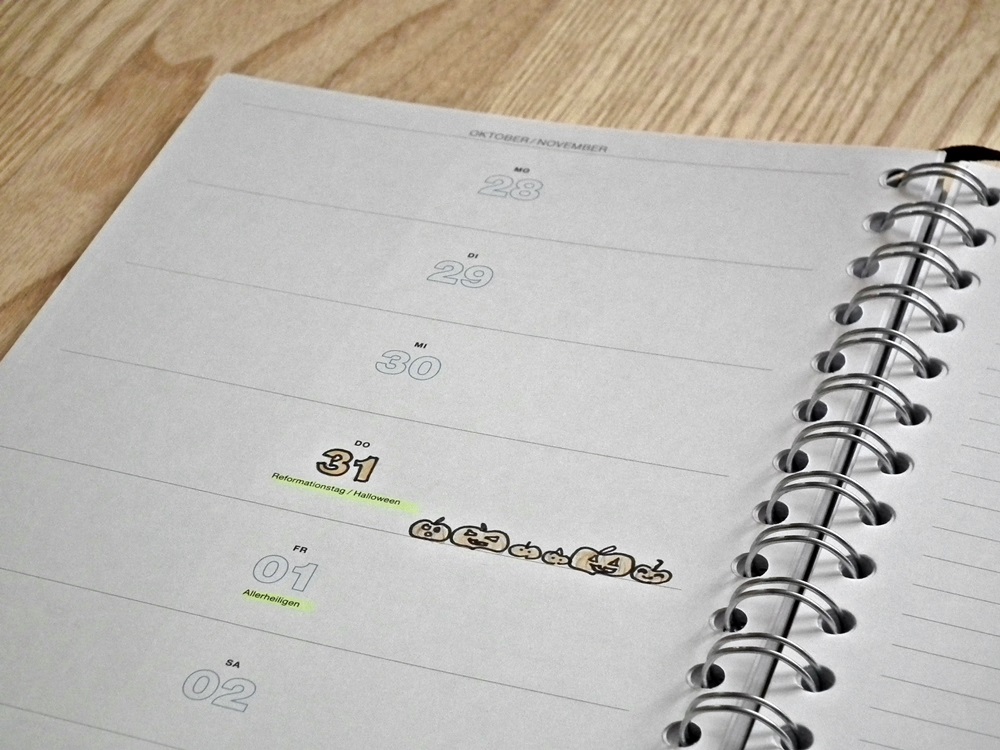 University Companion – Campus Logbuch
Organisation is key. Especially when you're a freshman struggling with tutorials, meetings, guided tours through university and libraries, shopping trips, dates, going out… Keeping track of all this stuff can be really difficult, but thankfully there's something that helps us not to loose control and stay focused.
University means you're not in school anymore, but still not really an adult (at least that's how I see it). To organise all your appointments, you need something in between an agenda/homework planner and a filofax. There should be enough space for personal entries, dates and university stuff like exams and deadlines. But it also shouldn't be too blank or boring either. You see, I have got a lot of expectations on my very own university companion. Thank God some people appearently know exactly what I need and made a planner, which is absolutely perfect. At least for me. (;
//Organisation ist der Schlüssel. Besonders, wenn man ein Ersti ist, der mit Tutorien, Meetings, Führungen durch die Uni und Bibliotheken, Shopping Trips, Dates und so weiter zu kämpfen hat… Da den Überblick zu behalten kann eine echte Herausforderung sein, aber zum Glück gibt es etwas, was uns dabei hilft, nicht komplett die Kontrolle zu verlieren und konzentriert zu bleiben.
Uni bedeutet, dass man kein 'kleiner' Schüler mehr ist, aber auch noch nicht komplett erwachsen ist (zumindest sehe ich das so). Um alle Termine zu organisieren, braucht man also etwas zwischen einem Hausaufgaben Heft (kennt jemand von euch noch das gute alte Häfft?) und einem filofax. Es sollte genug Platz sein für persönliche Einträge, Dates und auch Uni Zeug, wie Prüfungen und Deadlines. Jedoch sollte das Ganze dann auch nicht zu blank oder langweilig aussehen. Ihr merkt, ich habe hohe Erwartungen an meinen ganz persönlichen Uni Begleiter. Gott sei Dank wissen manche Menschen wohl ganz genau, was ich brauche und haben einen Planer gemacht, der einfach perfekt ist. Zumindest für mich. (;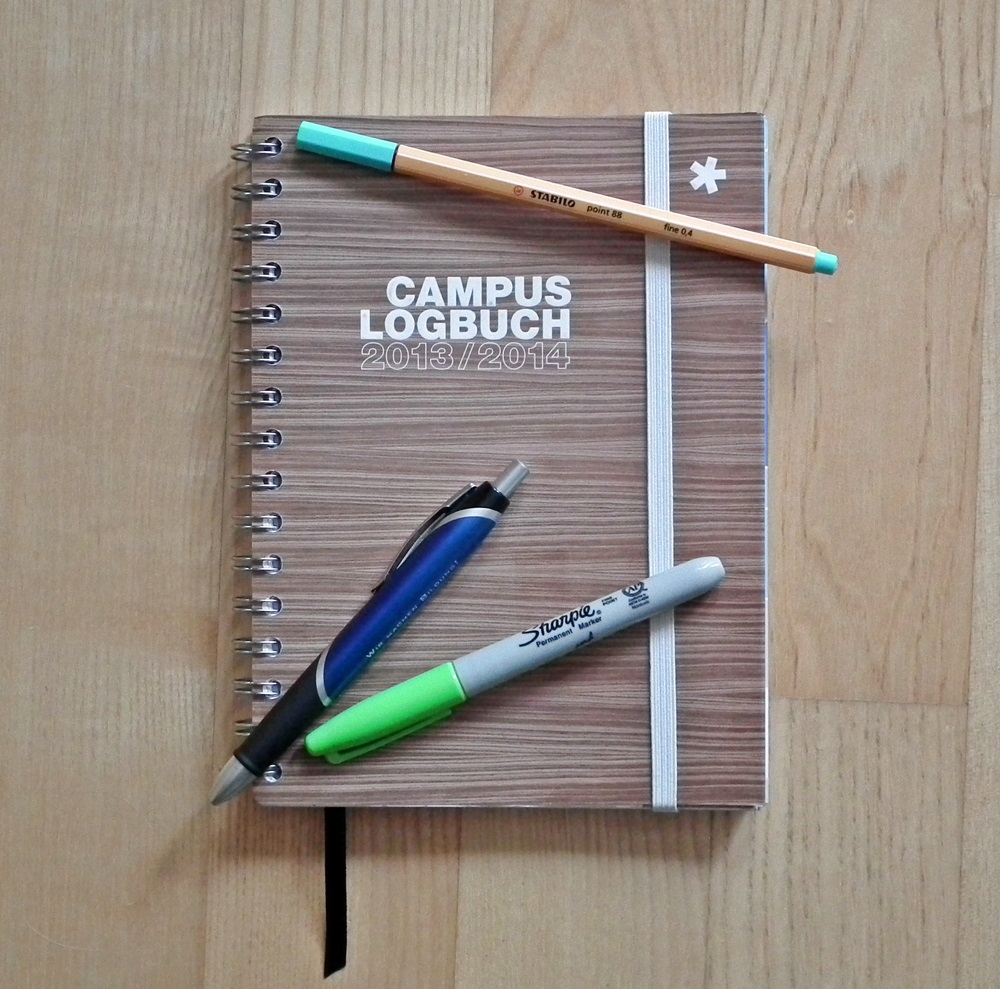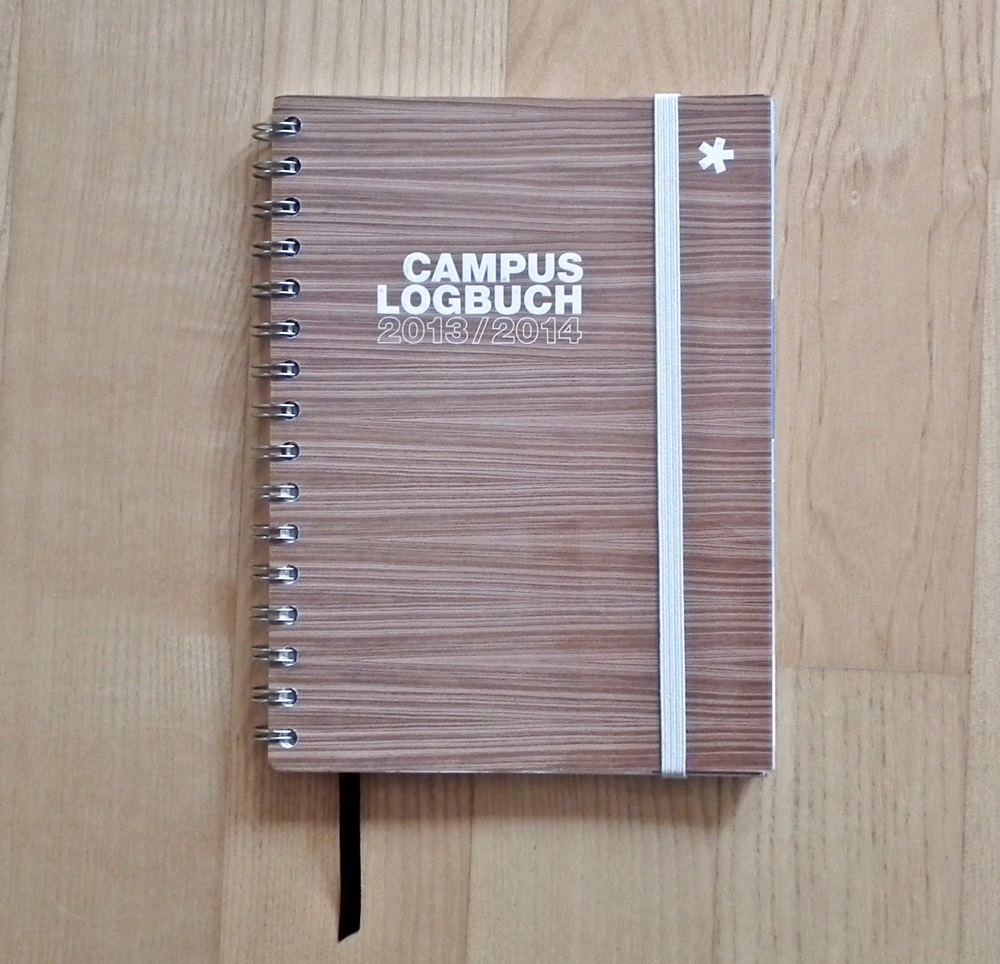 Between homework planner and filofax – Campus Logbuch 2013/2014
It starts in September 2013 and end in August 2014 – that makes two semesters. This way, it's absolutely perfect for students at university. In fact, this planner is made especially for them. (;
//Es beginnt im September 2013 und endet im August 2014 – macht zwei Semester. Somit ist es absolut perfekt für Studenten an der Uni. Genau genommen wurde dieser Terminkalender genau dafür gemacht. (;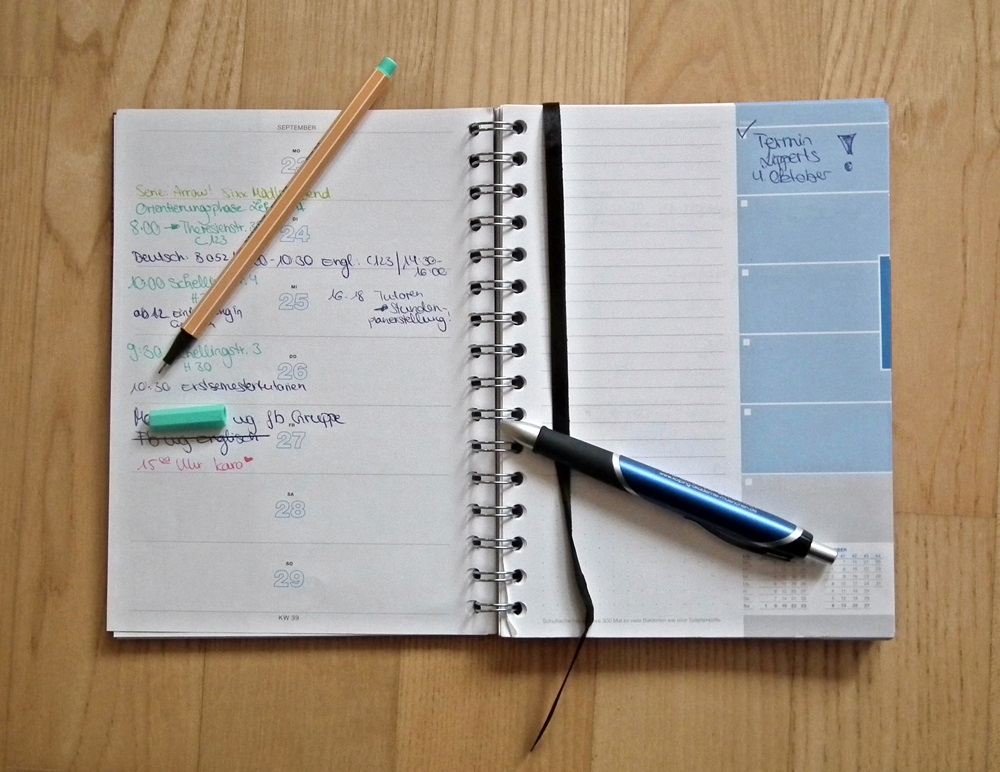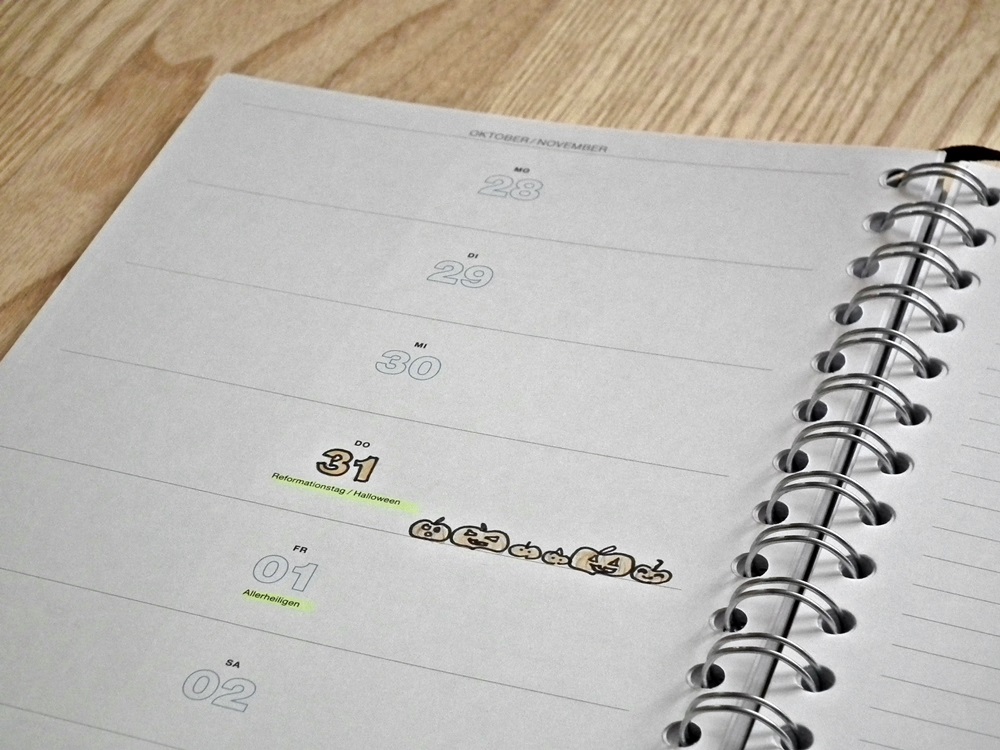 Enough space for both personal entries and university stuff. The page on the right provides space for notes and has a 'To-do' section, very useful.
//Genug Platz für persönliche Dinge und Uni Kram. Die rechte Seite bietet außerdem noch Platz für Notizen und hat eine 'To-do' Spalte, sehr praktisch.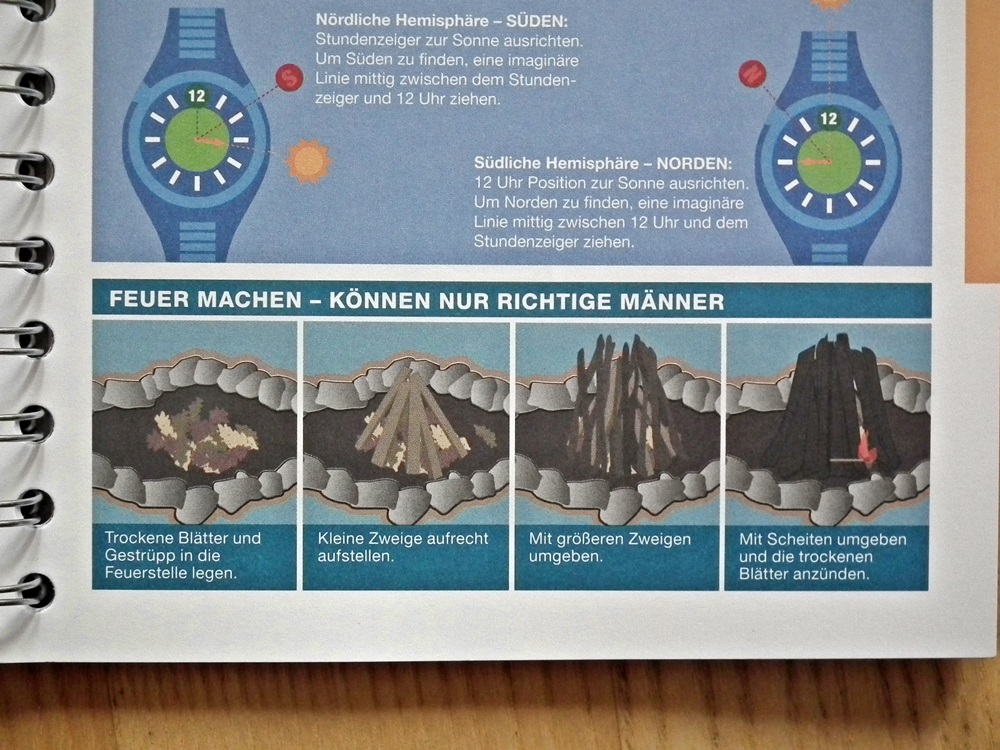 You never know, right? But – only men? Yeah, don't you believe it. (;
//Man weiß ja nie, richtig? Aber – nur richtige Männer? Klar, wer's glaubt. (;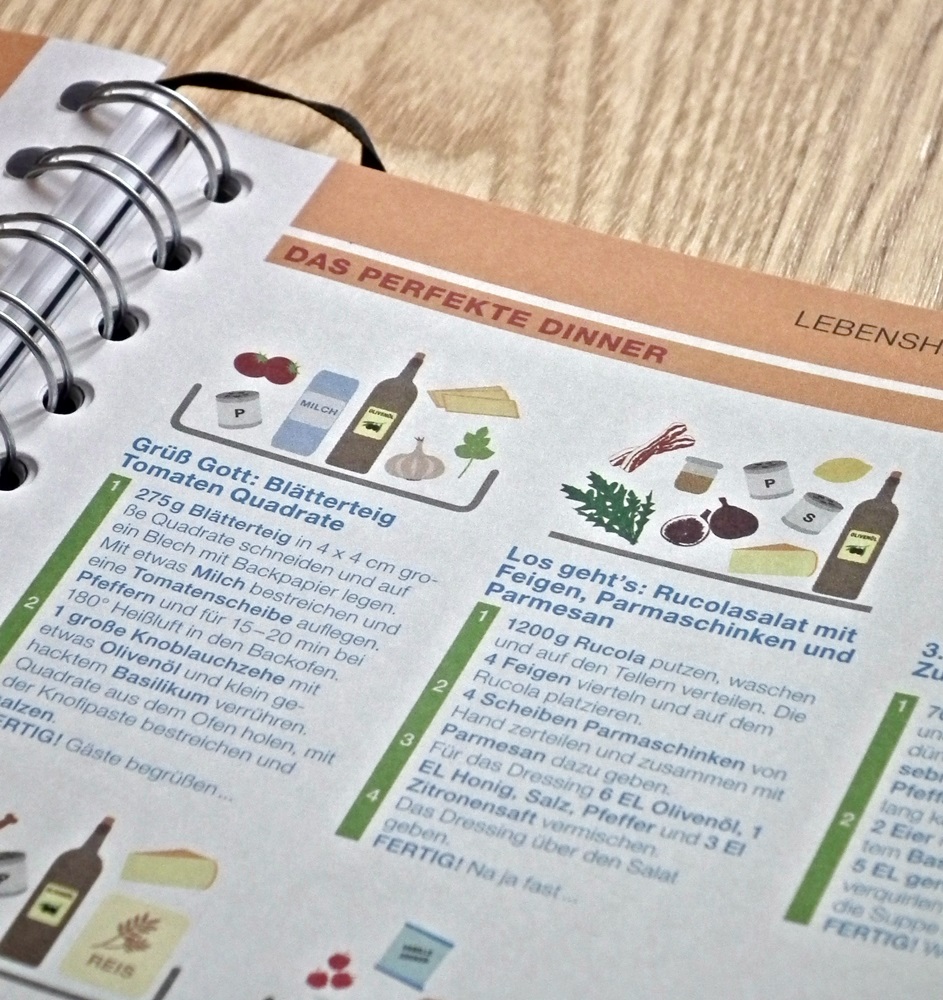 Impress your friends – or a date (; – with this menue. But be warned, they may want you to cook every weekend from then on.
//Beeindruckt eure Freunde – oder ein Date (; – mit diesem Menü. Aber seid gewarnt, sie könnten euch dazu überreden wollen, dass ihr ab jetzt jedes Wochenende kocht.
For me, the Campus Logbuch is perfect. I do highly recommend it, if you want more than just a simple calender and useful tips for everyday life.You can get it at amazon and it costs +/- 13€.
What kind of planner do YOU use for university?
//Für mich ist das Campus Logbuch echt perfekt. Ich kann es jedem empfehlen, der mehr, als einen einfachen Kalender und dazu noch hilfreiche Tipps für den Alltag möchte. Ihr könnt es auf amazon kaufen und es kostet ca. 13€.
Welche Art Kalender benutzt IHR für die Uni?